In this article we want to let Babsi Huber have her say. She gives you an exciting insight into what yoga can do for your riding in a wonderfully positive way.
Yoga and riding – how do that fit together?
by Babsi Huber
Did you know that YOGA can be especially helpful for riders?
Before I answer the title question, I would like to introduce you to the following: What does yoga actually mean?
Yoga helps you to strengthen and stretch your body. Even more, it gives you a better feeling for your body and more mobility.
And on the other hand, yoga opens up unimagined possibilities for you to get to know your own mind. You learn how thoughts and feelings arise and how to deal with them more easily.
You train your mind to be fully aware of the present moment. This means to perceive the present moment without judging or evaluating. This training leads you to more calmness, serenity, inner balance and above all to the highest ability to act.

Well, do you already notice parallels to riding?
Isn't everything described what riders – maybe you too – would like so urgently for quality and harmonious riding?
I have learned from riders that flexibility and a very good perception of one's own body are essential for riding. In addition, it is important to be able to concentrate with all one's attention on the present moment. Because this way it is possible to perceive your own horse as well as possible and to be able to act out of the moment.
This is exactly where yoga and riding come together. With the help of yoga you can learn to use your own body more consciously, because you have it better under control. Just like you need it when riding. You become more sensitive in your own body, and of course you can also be more aware of the horse's movements. Your connection with your horse becomes more intense.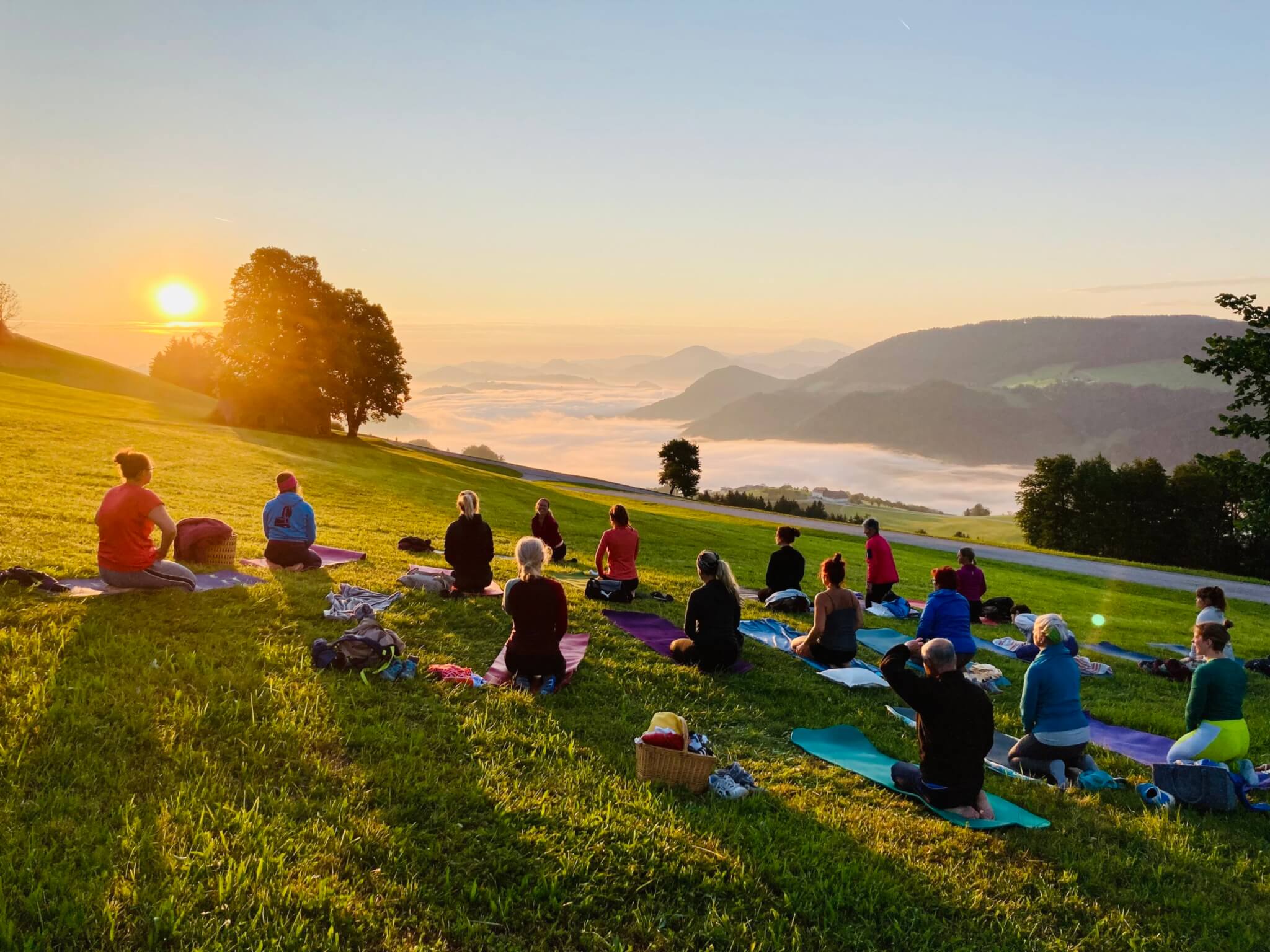 By the way, it is practiced on a yoga mat. Otherwise, all that's needed is a quiet, relaxed environment – nothing else. In the picture, for example, you can see a dreamlike setting that we had during a sunrise yoga session that I regularly hold for groups.
So what is yoga exactly?
Yoga offers meditative techniques that focus on mental concentration and physical exercises that improve your strength, flexibility, and inner and outer balance and agility. Specifically, in addition to physical exercises, the so-called "asanas", breathing exercises and, for example, mindfulness meditations are performed. Whether for beginners or advanced does not matter. Yoga adapts to your needs, not the other way around.
Are you curious🧐? Do you want to see for yourself how yoga can help you with your riding?
Then I recommend that you look for a quality yoga offer in your area and also book it😉. Go on a wonderful journey of discovery 😊 and let yourself be surprised what yoga can trigger in you and in your togetherness with your horse.
Always take time for yourself, for training with your own body and mind on the yoga mat to experience your riding even finer. There is nothing good unless you do it. Try it out!
I'm also happy to link you to my next yoga offerings, you can find them below. Additionally, feel free to contact me if you are interested in a 1:1 yoga session. The advantage of this is that we can focus on your own needs and goals. For example, if you want to stretch and strengthen your hips for a better fit in the saddle.
See you soon on the yoga mat!
"Namasté 🙏😊"
Babsi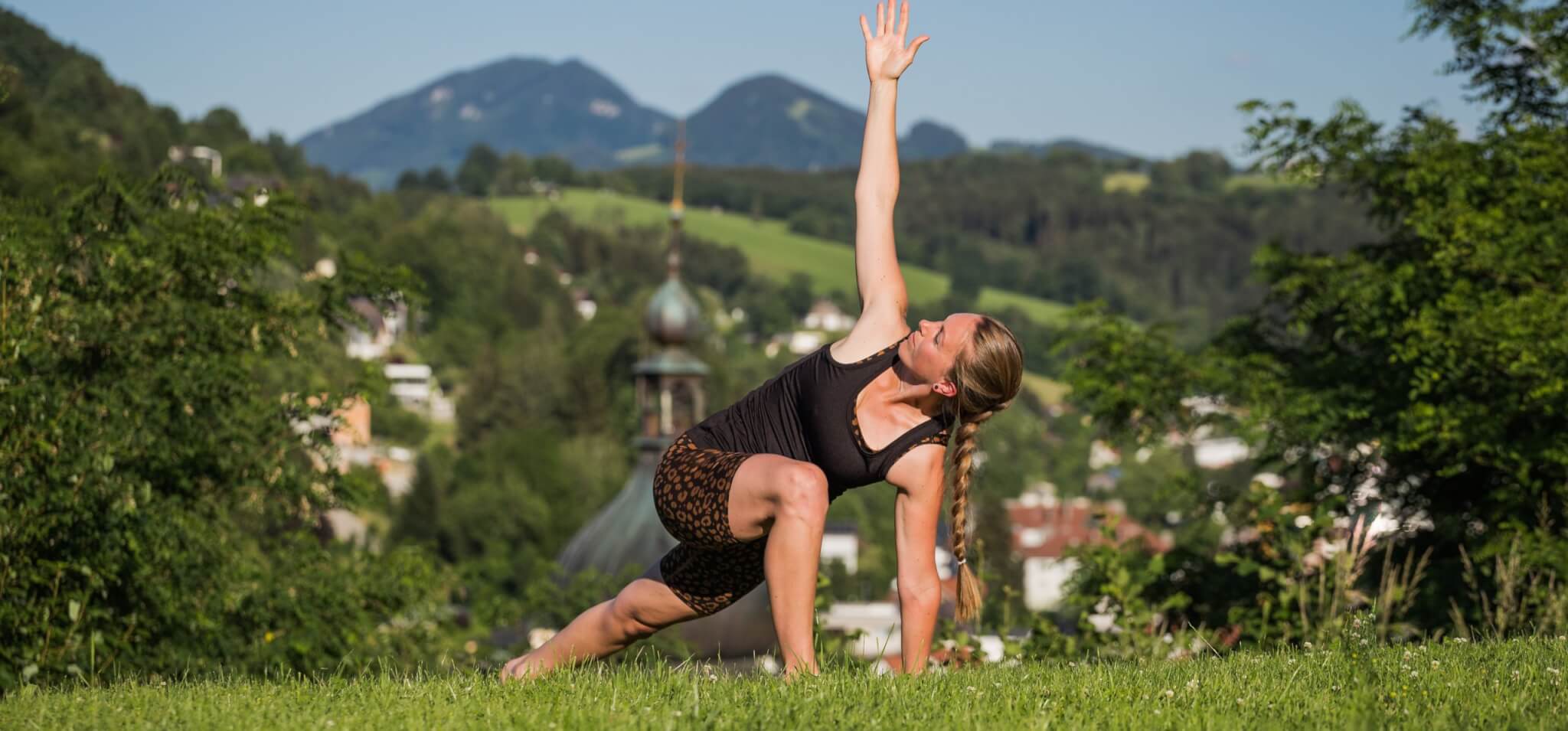 Barbara Huber is a trained relaxation and mindfulness trainer, certified yoga teacher and is responsible for human resources development in a commercial company.
Mental training for riders
Babsi is also present in our Alexanderhof online school. With two special meditations for riders she has put together a very beneficial offer for you. Click on the picture and have a look at the details…
(german only)